What is SPC flooring?
SPC flooring (Stone Plastic Composite or Rigid core LVP) is one of the latest trends in home design this year. It is based on polymer material as the primary raw material, combines limestone powder and stabilizer to create an extremely durable core, through high-temperature extrusion sheet, four roll calendar, hot compress, colour film decorative layer and wear resistant layer, UV spray coating production line, automatic technology, high precision slotting.
SPC flooring is typically comprised of 5 layers.
1) . UV layer: The UV coating protects against excessive wear, provides superior clean ability, and provides superior stain resistance, prevents fading etc.
2) Wear layer: which gives the floor its resistance to stains and scratches, making them easy to clean.
3) . Decoration layer: The flooring patterns and the colors are printed on this layer. It makes the flooring look identical to natural materials like stone and wood.
4) .Rigid core: this core is made from the limestone powder and stabilizer material, which makes the flooring rigidity and stability as well as waterproof.
5) .Attached underlayment: some customer would choose the spc flooring coming with the attached underlay or not. The underlayment mainly help to add softness to the flooring, and reduce the sound. There are so many choice for the underlayment, such as IXPE, EVA as well as the cork etc.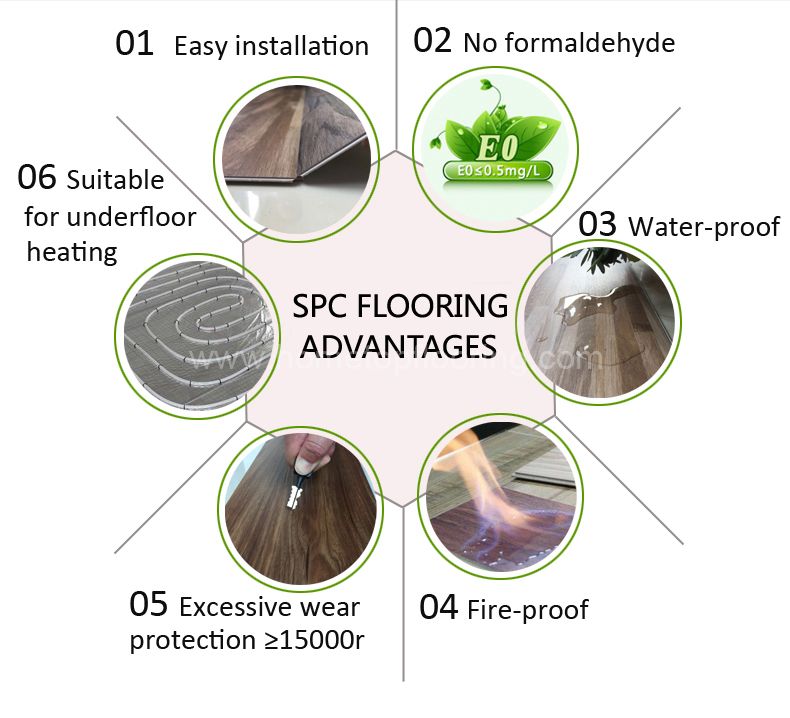 Model No.:HP62001
Construction: 100% Waterproof SPC Composite with attached IXPE Underlayment
Sound Insulation: 1mm/1.5mm IXPE attached underlayment
Plank Length: 48" (1220mm)
Plank Width: 7-1/4''(184mm)
Plank Thickness: 4mm/5mm/6mm
Wear Layer: 0.3mm/0.5mm
Click System: Unilin Click Lock System
Surface Finish: Line emboss/Light embossed/Deep embossed/Light wood grain
Edge: Micro V-groove
Package: 8pcs or 15pcs/carton with plastic bags and pallets
Warranty: 30 Year Residential Warranty/ 15Year Commercial Warranty
Application: Residential, Commercial
Characteristics: Sone Composite
Delivery time: 30-35days after receiving customer's 30% deposit
Payment terms: T/T, L/C, or Negotiable