Aug. 19, 2021
When searching for the perfect vinyl flooring, you may come across the terms SPC and WPC. Want to understand the differences and compare SPC vs. WPC vinyl? You've come to the right place.

Both options are known for being 100% waterproof. spc is a newer product with a signature rigid core that is virtually indestructible. wpc has been the gold standard in vinyl flooring and has a waterproof core that is both comfortable and practical.
In this head-to-head battle, learn the pros and cons of SPC and WPC, understand how they are made, and even compare cost, durability and comfort.
First understand the difference between SPC Rigid Core and WPC waterproof vinyl: their different cores.
The waterproof core is the highlight of both WPC flooring and Rigid Core flooring.The WPC core is made of a wood plastic composite material. The core contains added foam for added resilience and comfort.
Meanwhile the SPC core is made from a stone plastic composite. Stone is harder, stronger and less resilient. SPC has no added blowing agents, making its core stronger and more robust.
Because SPC is very durable, non-bending and virtually indestructible, it is often used in high-traffic commercial spaces. The rigid core also makes it less susceptible to dents, which is always an advantage in areas with a lot of heavy furniture or heavy traffic.
When comparing these different options to different types of carpet, WPC flooring is like a luxurious home carpet, while SPC rigid core is more like a commercial carpet. One is more comfortable, the other is more durable, and they both do a great job.
So now that you know the basics of SPC and WPC and understand the differences between their core layers, it's the moment you've been waiting for - the ultimate comparison of SPC and WPC vinyl.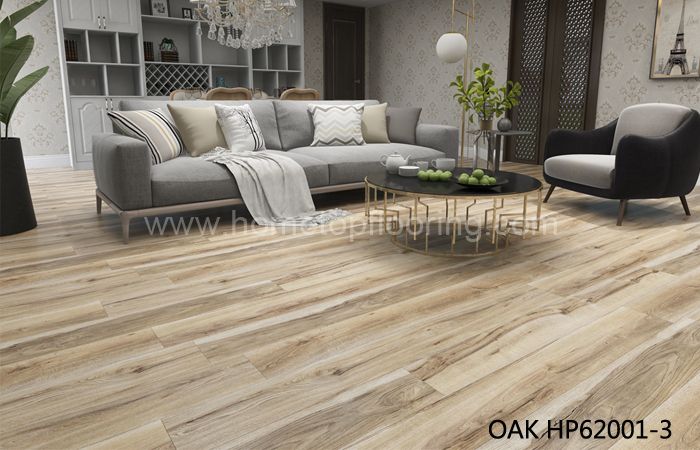 Moisture Resistance
"100% waterproof" means - both SPC and WPC are completely moisture resistant. Thanks to their advanced core and layered construction, water won't damage these boards from the top or the bottom.
Cost
WPC can be a bit pricey compared to other flooring options, but it also has many benefits, such as being 100% waterproof. SPC vinyl is usually cheaper than WPC, and it has the same features. That's why Rigid Core SPC is so appealing to business owners!
Applicability
WPC is ideal for basements, bathrooms, kitchens and all levels of the home. wpc is often considered a better choice for residential use because it is softer underfoot. spc vinyl works in these areas as well as in commercial spaces with a lot of foot traffic.
Durability
While both SPC and WPC vinyl are very durable, SPC stands out from the competition. With this stone-plastic composite core, even the heaviest traffic or furniture won't leave dents in the surface.
Feel
SPC gets extra durability from a hard stone composite core, but that also makes it inflexible and cold. Because WPC has more core, it's more comfortable under your feet and retains some warmth, which is especially important in your home.
DIY Friendly
Installing SPC and WPC yourself is easy because they both feature a convenient, interlocking tongue-and-groove system. Just click them together and you're done!
In the end, there's no way to say that an SPC or WPC floor is better than the other. It all depends on where you plan to install it and what you want from your flooring. There's a lot to love about both options. Please come to Shandong Home Top to find more beaytiful flooring with high quality, we also have lanimate flooring for sale.